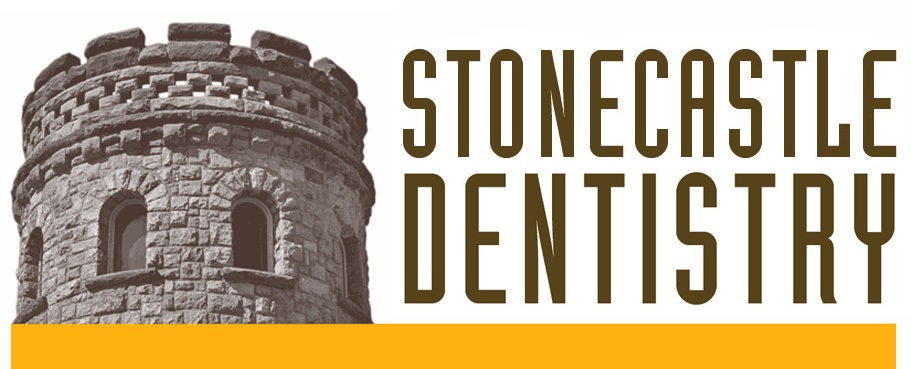 Payment Options and Policies
Stonecastle Dentistry is dedicated to delivering the finest dental care at the most reasonable cost to our patients. We accept cash, checks, VISA®, Mastercard®, American Express®, and alternative financing through CareCredit®, which is a healthcare credit card. Payment is due in full on the date of service. We also participate with various insurance plans and will be happy to submit your claims for you. We are considered in-network participating providers with ADN, AFLAC, Delta Dental, Careington Network, Cigna, and United Healthcare. We are also able to provide care and insurance filing to several out-of-network plans. If you are wondering whether or not our providers are in or out-of-network, please call the customer service number on your insurance card or visit their website and do a provider search for your area.
The amount we collect on the day you are in our office is only an estimate of your copayment — this estimate is based on information received from your insurance company and is not a guarantee of benefit or payment. Providing our office with accurate dental insurance information will help us expedite your insurance determination of benefits. Please remember you are responsible for all fees charged by this office regardless of your insurance coverage.
If you have questions regarding your account, please contact our office at 616-458-8593. Our knowledgeable staff will be happy to guide you.
Hours
Monday 8:00am - 6:00pm
Tuesday 7:30am - 4:30pm
Wednesday 9:00am - 6:00pm
Thursday 7:30am - 4:30pm
Contact
Call us at 616.458.8593 to schedule an appointment and become a part of our community!
Address
455 Cherry Street, SE
Grand Rapids, MI 49503
Pay Online
Get connected to our Patient Portal where you can make payments, view account balances, check upcoming appointment dates and view educational videos on dental health and procedures.
Already have your Patient Portal set-up?